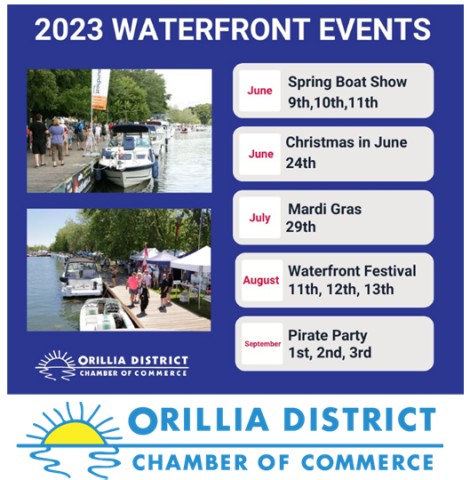 Orillia 2023 Waterfront Events
Festivals and Events
"ORILLIA WILL THRILL 'YA"

Festivals and events at the Port of Orillia spell excitement.
Spring Boat, Cottage, and Outdoor Show
This annual event is one of the first signs of summer in Orillia, with residents & visitors alike coming to the Port of Orillia to enjoy the beautiful waterfront. The show features a wide range of vendors showcasing what's new in outdoor summer adventure gear, along with food trucks. The Port of Orillia's Spring Boat, Cottage and Outdoor Show is one of the largest in- water used boat sales in Ontario.
Show Dates:
Friday June 9th, Saturday June 10th & Sunday June 11th
Christmas in June
This event is traditionally a sold-out event for boaters, and the general community can join in the festivities as well! This event features winter holiday fun without the winter weather! Vendors provide holiday goodies and souvenirs. Come out to the Port of Orillia and check out the boats lights that are sure to make your weekend bright!
Show Date:
June 24th, 2023
Mardi Gras
Mardi Gras is a new event this year. We have rebranded Halloween in July to Mardi Gras. This event features fun, shenanigans and celebration!
Show Date:
July 29th, 2023
Waterfront Festival
The Orillia Waterfront Festival features entertainment, food, a vendor market, new and used boat sales, a Cardboard Boat Race and a dog diving contest!
The festival will feature a vendor market on Friday, Saturday, and Sunday with a wide range of unique vendors showcasing everything from hot tubs to one-of-a kind clothing and decor items to unique food options.
Show Dates:
August 11th, 12th, 13th 2023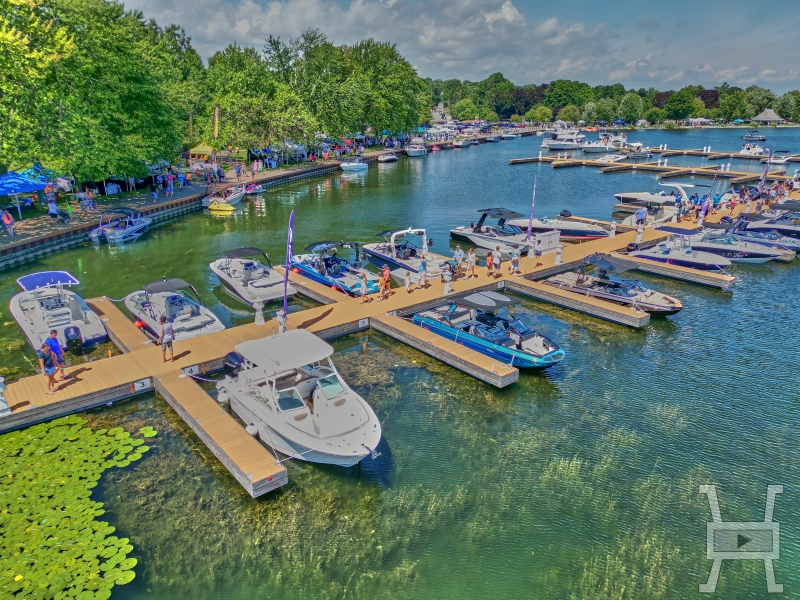 Pirate Party
On Labour Day Weekend, Pirates Invade the Port of Orillia!
Yo-ho! It's time to batten down ye hatches, because the "Pirates of the Orillian Sea" have their sights set on the City's Downtown Waterfront. They are expected to make landfall just in time for the Labour Day weekend, and are bringing with them a weekend of fun and entertainment for all ages!
The Orillia Pirate Party features:
• Life-sized "pirate" ships crewed by historical re-enactors
• Fencing, tactical, and artillery demonstrations
• Pirate encampment village featuring a blacksmith demonstration, costumed re-enactors, and historical props
• Live musical entertainment
• Food and vendors
• Downtown scavenger hunt
• Rotary Club beer garden
Event Date:
September 1st, 2nd, 3rd

Orillia District Chamber of Commerce
575 West Street South, Orillia, Ontario L3V 7N6